Today we have a sneak peek of Author Peter Green's new mystery novel, Crimes of Design.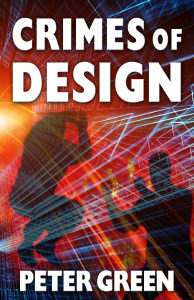 When architect Patrick MacKenna discovers the dead body of his staunchest advocate on the site of his controversial new town project, within hours he's a murder suspect. As attacks against the infrastructure increase, he wonders who, in his nether world of conniving colleagues, land speculators, newsmongers, venal politicians, bored bureaucrats and greedy contractors, is attacking his city, and why?
Aided by Meg Stewart, the developer's project manager, who must overcome her own troubled past to help Patrick and win his heart, MacKenna reluctantly accepts the aid of Assistant U.S. Attorney Adam Reiner and tough, sexy FBI Agent Bobbi Romano to scour St. Louis's underbelly and chase through Mexico and the Mississippi valley to run down the plotters. But Patrick must still confront a ruthless killer to save his city, his family, his career and his very life.
Crimes of Design is available from Amazon.com, Amazon UK, and Barnes & Noble.
Here is an excerpt from Crimes of Design…
Part I: Unnatural Designs
It was the last thing Patrick McKenna expected—the final vestige of a life well lived, drenched and still, soaking in a concrete tomb.
His forehead dented, hair matted with blood, familiar old grey suit clinging to his legs, his colleague lay face up in the bilge of his project's storm water pumping station, snatched from his family and friends without a kiss, a hug—not even a chance to say goodbye. With great effort Patrick lifted his friend by the shoulders and hugged him, his tears mingling with the splash.
What might he have said to Patrick, his friend, his confidante?
They don't like this project, Pat. Don't let them get away with this. Stop them.
"Who? Who are they, and why?" Patrick's words echoed off the concrete walls.
But he didn't answer, and he never would.
Dammit, this man deserved better. Dammit, we all did.
Patrick might have expected trouble after last Friday's blowup.
As he had headed eastward toward downtown St. Louis, a mantle of gray brooded overhead, hiding the misdeeds of men from the gods. This summer of endless rain—the Corps of Engineers said the floods might even beat 1993—had threatened levees, shortened tempers and deepened Patrick's funk.
Despite his best efforts, he arrived at the Corps offices late. By the time he entered the conference room the meeting was in full swing.
Each person in the room was righteous. But as he now saw it, only one of them was right.
"This project will provide new jobs and growth for the city," harped Doug Marsh, Patrick's developer client.
"Your planning is like rearranging deck chairs on the Titanic," fretted Brooke Ford, chief hydrologist. "You're putting everyone at risk behind a levee that might not meet strict Corps standards—it could fail." She was responsible for approving their flood protection system. "And I don't relish the fight with that hippie Steven Mueller and his cronies over so-called damage to the river's ecology."
"This project will be good for the environment," Patrick insisted. "Design with nature, reduced auto traffic, less air pollution and a short walk to work, school and shopping."
Undeterred, she rattled on. "Besides, you've jumped the gun by starting construction. It will take us several months to review your plans, gather the comments from a half dozen other federal agencies and issue the levee permit."
"You'll kill the project," Doug said. "My interest cost runs thousands every day."
As Patrick's Irish father would say, it was like having four Germans around a table—you had four political parties.
Except that the fourth person in the room was Mayhew Woods. . .
"Now folks, we all want this project," Mayhew said. His bulldog jowls flapping, he emitted gruff tones from deep within his unassuming, bulky form, clad in a baggy business suit. "Our city needs growth. Patrick will provide a state-of-the-art urban design. And the Corps's mission is to support local sponsors with environmentally sound, economically feasible programs. Let's cool off over the weekend. Next week we'll hammer out a solution that works for all concerned."
And so their Come to Jesus meeting was planned for nine o'clock on Monday morning.
---