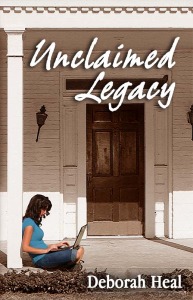 Today we have a sneak peek from author Deborah Heal's young adult novel: Unclaimed Legacy.
"Time-surfing," Abby said, "is like being there, except no one knows it."
"Whatever you call it," John said, "that was crazy! I was in that guy's head."
Abby's weird computer program is working again, and this time they use it to help the Old Dears next door with their family tree. They learn more about one of the ladies' ancestors than they ever wanted to know. But while they're rummaging around in a murderer's head, they discover the truth of God's promise to bless a thousand generations … and a legacy waiting to be reclaimed.
Unclaimed Legacy is available from Amazon US, Amazon UK and Barnes & Noble.
And now, an excerpt from Unclaimed Legacy…
Abby managed to get her mascara on without smudging it. It was not an easy task, knowing that if she glanced at the other reflection in the mirror she'd see Merri's sorrowful eyes staring back at her. At least she wouldn't have to spend any time on her hair. Whatever she did, it dried in a mass of brown curls.
She smoothed on a bit of lipgloss and then, trying not to feel guilty, smiled encouragingly at the pudgy eleven-year-old beside her. "Come on, Merri, it's just a lunch date. I'll be home before you know it. And while I'm gone you'll get to spend some time with your mom."
Merri sat on the edge of the tub and morosely petted Kit Kat, her chocolate-colored cat. "But this is just the beginning. I'll never see you again now that you're going out with John."
Abby was glad Merri wanted her around. It was a big improvement from her first two weeks there. Thankfully, the troubled girl had finally begun to accept her help and her friendship.
"I don't know if I'll keep 'going out' with John. It depends. Besides, I'm your tutor; I can't go away. You'll be seeing me all summer."
"What do you mean, 'it depends'?"
"Depends on if he turns out like the last guy I dated."
"The one who wasn't interested in your personality?"
"Yeah, that one. But as for John… well, so far so good. He's already earned a star in that department."
"A star?"
Abby blushed. "Well…see, whenever I meet a guy I'm interested in going out with, I imagine a chart for him labeled Possible Marriage Material. Then I give him imaginary stars for things I like about him."
"Like being tall and handsome?"
"He is that. But, I'm looking for character qualities." Abby gathered the last of her things and zipped her toiletry case. "Like I always say, beauty is more than skin deep."
Merri continued to pet Kit Kat thoughtfully and Abby wondered if she should stay and expand on the topic. She had already determined that her service project for Ambassador College included much more than tutoring Merri in academic subjects.
But John would be there any minute. She put her arm around Merri's shoulder and said, "We'll talk more when I get back."
Merri's mother Pat Randall poked her head past the door and said, "He's here. You didn't tell me he had a vintage Mustang!"
When Abby got downstairs she saw that John was dressed in khakis and a shirt that made his eyes look even bluer than usual. And then, even before she got close, she picked up the scent of the killer aftershave he always wore.
"You clean up nice!" he said with a grin.
"Hi." She mentally grimaced, just thinking about the last time he had seen her— wearing cobwebs in her hair and old paint-stained jeans. This time she was dressed better, in tan capris and a white camp shirt, but…
---