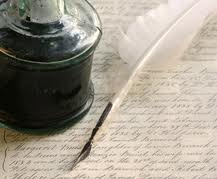 In the community of authors, there are those for whom writing is in their souls. It is who they are, what they do. For some, writing is a calling. I respect that. I think there is something noble in it. I will leave it to those who share that level of passion for writing to explain it in their own words, because that's not me.
My nature is that of an entertainer. I like to provoke discussion, thought, reflection or laughter in others. For me, telling or writing stories is one way to do that. In order to accomplish that, it is not enough to write; what I write must be read by others. On some level, I think that is why everyone writes. When someone announces that they wish to speak, they are not actually saying they want to utter words – they could do that anytime. What they mean is that they wish to be heard.
For me, writing is merely the action, not the result. I understand not everyone will share that sentiment. Some may write for catharsis, or because there are restless voices nagging at them to be expressed in some way. Maybe they process certain feelings or experiences by writing. At the risk of having my elbow patches and brier pipe revoked, I must ask: If this is really all that is required, why publish your writing? Why anguish over reviews?
I firmly believe that the fundamental force at the root of all human behaviors is the need for validation. I don't mean validation in the sense of a pat on the back, but validation in the sense of testing and confirming what we hold as the truth about ourselves. If I write a book, that's validating if my untested belief about myself was: I bet I could write a book.
That is not why I wrote a book, though. I wanted to know if I could write a book interesting enough that people would pay a couple of bucks for it. I did that. My book got some really outstanding reviews from people I've never met and probably never will meet in person. My book was read by people who live in other countries. That makes me feel pretty good about myself. (Not to mention, I've made literally tens of dollars!)
Along the way there were some disappointments as well. I had always assumed that if the book was good enough that people would pay a few bucks to read it, that agents and publishers would be interested as well. They were not interested and as far as I know, still are not interested. Well, the whole traditional publishing industry has other things to worry about.
There were some very pleasant surprises as well. I admit that my preconceived image of a group of authors was not a particularly flattering one. I imagined a bunch of self-aggrandizing gasbags sitting about, looking down their noses at a presumptuous upstart, especially so if the upstart did not have "the calling." I can honestly say that reality is 180 degrees from that image. I have never met a warmer more supportive community than that of the indie authors I have come to know. If it were a town, I'd move there.
My message is simply that if you want to write, do it. You do not have to be called. It does not matter what your motivation. Other people besides Hemingway have written books. Readers await, so do write and fear naught.
---
A version of this article first appeared on Lisa Vandiver's blog, Lisa's Place on August 24, 2011. You can find the original article here.