I'm lazy. I'm honest about this. And I despise self-promotion. That's not a very good combination for an author who's expected to promote her own work. So trust me, if there's an easy way to do something – I'll find it.
Twitter used to be fun for me, so I didn't mind going there. Now I'm so inundated with spammy comments that I hardly ever go there anymore – but millions of other people do. Authors are expected to have a Twitter presence and a following. But if you hate going there, how do you keep these imaginary legions of adoring followers entertained? Easy: you set up your author page on Facebook to generate the tweets for you.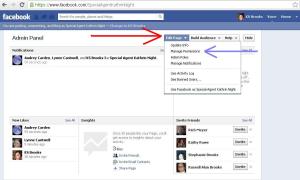 First – go to your author/book/ character's Facebook page. Since my official K. S. Brooks and Mr. Pish pages were both already linked to Twitter accounts, I set up a new page for my recurring character – Special Agent Kathrin Night – so I could show you how. At the top of your Facebook page is the attractive admin panel, which we all love so much since we've been forced into submission by timeline. Click on the little drop-down arrow to the right of "Edit Page" (red arrow). You'll get a drop-down window. Click on "Manage Permissions" (blue arrow).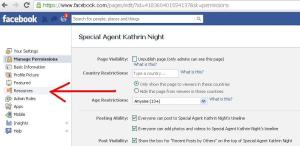 This will take you to another screen (shown at right). Click on "Resources" on the left sidebar. Now, it seems to me that there may be a faster or easier way to get here than this, but I've yet to find it. This is the only way I know, so this is what you get.
This will take you to yet another page. Click on "Link your Page to Twitter."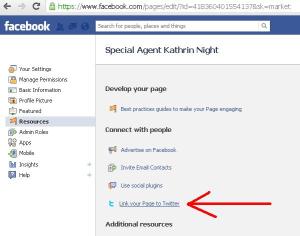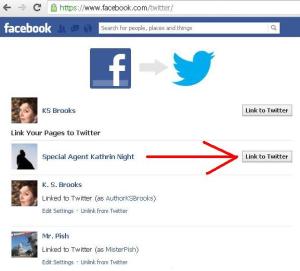 A page showing all your different accounts will appear on your screen. Magic, eh? Your personal page will be included, so if you want to link that to Twitter, you can do that from here as well. You can also make any adjustments to your accounts which are already linked to Twitter. If you're ready to proceed, just click on the "Link to Twitter" for the page you want. I don't link my personal page to Twitter because unless you have a private Twitter account, the world can see everything you post. I like to keep my personal Facebook page posts private, for my friends and family only.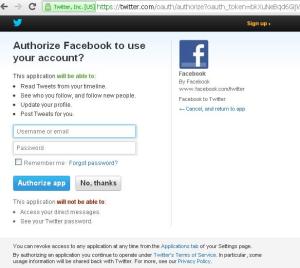 Once you've clicked "Link to Twitter" you'll be brought to yet another screen asking you to log in to your Twitter account and giving your Facebook account permission to access your Twitter account. Just enter your username or email where it's requested, and then your password, then click on the blue "Authorize app" button. I don't use ANY apps in Facebook except for this one. Trust me, it's worth it.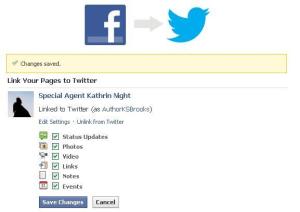 It will ask you again which page to link to Twitter, so click on the button next to the page you want. Hit "Save" at the bottom. When you're done, you'll get the screen to the right. The interesting thing about this is the options you're given to link to Twitter. With all the boxes checked, any activity you post to your page will automatically post to Twitter. People love photographs, so definitely make sure that's selected. And now you're done.
An added bonus to this whole thing – is the "Scheduled Posts" available through Facebook – you can read that tutorial here. If you employ this method – you can have a scheduled post, comment or photograph post to your Facebook page at whatever time you desire, and that will auto-post it to Twitter. So you can be out on the red carpet posing for the paparazzi while your pre-scheduled post saying "OMG – George Clooney is totally checking me out" goes live. Pretty cool, eh?
Now get ready because tomorrow we're having a Twitter like-fest, when everyone has the chance to follow you – since your posts are so interesting, excellent and what not.