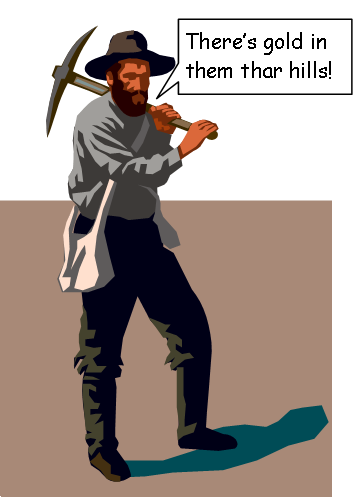 We'd all like to sell more books, right? And we're marketing directly to our readers (or trying to), right? So maybe we should be looking to direct marketers for advice.
With that thought, I picked up the number-one bestselling Kindle book in the direct marketing category: Crush It With Kindle: How to self publish your books on Kindle and promote them to #1 bestseller status, by John Tighe. Leaving aside the typos in the title ("with" should be lower case, and "self-publish" ought to be hyphenated), I was hoping for some big insights. Alas, the only thing I learned was how to make my book resemble an infomercial.
Tighe starts off by outlining the money to be made from the "Kindle 'Gold Rush'." He cites Amanda Hocking's success and says (with liberal use of exclamation points!) that you, too, could make that kind of money! Why, if you priced your book at $10 and sold just ten copies a day, that's $2,100 per month in royalties! And if you had ten books for sale, and they each sold ten copies a day, you'd be making $21,000 per month! (Show of hands: who here is selling ten books a day? Anyone? Bueller?)
Then he lists seven ways you can monetize your book. Here's where the glory train really breaks down. Tighe stresses that being a "#1 bestselling Amazon author" is a huge boost to your credibility if you're a speaker, coach or consultant. Ah, now we begin to see who his target audience is! He suggests that you could become a publisher: in other words, you could hire people to write, edit, and format books for you; or you could "help other people get published on Kindle in exchange for a fee or a royalty based commission or preferably both." And of course, the best people for you to publish are those who already have a big following. He also highly recommends that you include what he calls a "lead magnet or 'ethical bribe'" in your book – some value-added thing that your reader has to give you their e-mail address to get.
I forgot to mention that between the first two chapters, he's put in his own "ethical bribe": an offer for four how-to videos that you can have, absolutely free, just for buying his book. All you have to do is click through the link and – wait for it – give him your e-mail address. That's all there is to it!
Here's the problem with mining your readers for their e-mail addresses: In 2003, the U.S. Congress enacted a law called the CAN-SPAM Act. You can set up an e-mail list, all right, but you have to follow certain rules, because spamming is illegal. And not just in the U.S.; other countries have similar laws. But nowhere in this book does Tighe include this critical information. Now, if you were already in the direct marketing business, you'd probably be aware of this. But I can foresee eager-beaver indies reading this book and saying, "Boy howdy, I am going to follow these steps set out by this #1 bestselling Amazon author, and I'll be raking in $21,000 a month in no time!" and never even think about the fact that they're running afoul of the law.
Another of Tighe's great suggestions is to serialize your books – by, say, splitting a single book into smaller parts. He says readers aren't necessarily expecting a 200-page book for $2.99 – they'd be just as happy with 50 pages at that price. (Show of hands? Bueller?)
Most of the rest of the book is either common sense or information that's readily available for free on the Internet (much of it right here at Indies Unlimited).
Coincidentally, this month's KDP newsletter features five tips for indies from Guy Kawasaki, whose APE: Author, Publisher, Entrepreneur – How to Publish a Book is also a #1 bestseller (in a different category). His number-one tip: Write for the right reasons. Here's what he says: "Writing is an art form, and a book is an end in itself – don't write a book solely because it is a means to an end. The good reasons to write a book are the desire to enrich people's lives, to further a cause, to achieve an intellectual milestone, and to get something off your chest. The bad reasons are to make a lot of money or to increase your consulting or speaking business."
Maybe we should introduce these two guys.