You've seen them, I know you have. The ugly, discombobulated, burdened Facebook page URL that has not been properly set up.  My favorite is when someone who claims to be a social media or marketing expert sports one. "Come check out my page!" they'll say to me, presenting me with a link that looks like "http://www.facebook.com/pages/Judy-the-marketing-pro-author/260458930631195"   Hey, Judy, guess what?  No one's going to remember how to get to your page with a link like that. Not to mention it's kind of embarrassing.
What can you do about it? Well, I'm glad you asked.
Once you have 25 fans or "likes", you can change that URL.  I recently heard a rumor that you don't even have to have that many "likes", but according to this Usernames for Facebook Pages help page, that's not true.
Ready to give it a shot?  Here's how to do it: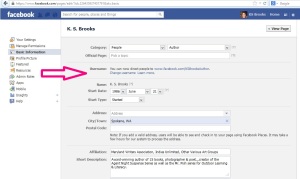 On your author, fan, business or whatever page you've got, go to Edit Page in the top center of your "admin panel." That will open a little drop-down window. Select Update Info from the very top. That will open a new page which looks like the picture to the left. You should see "Username" near the top of the page in the middle. Facebook will walk you through it from there.  You can set up a nice, clean URL like http://www.facebook.com/AuthorJudy.
Now that's a link people can remember.  You can have it printed on bookmarks, put it in your email signature, etc., etc.  Much better, right?
Just make sure you're happy with it the way it is, because once you click that button, you can't change it!  And, make sure you're happy with the Name on your page, because once you hit 100 fans, you can't change that either.
Feel free to check out my author page at http://www.facebook.com/KSBrooksAuthor.
Now spiffy up your URL – we're going to have a Facebook page likefest tomorrow to get your page new likes and more exposure!