Two changes occurred last week in the two biggest social media platforms.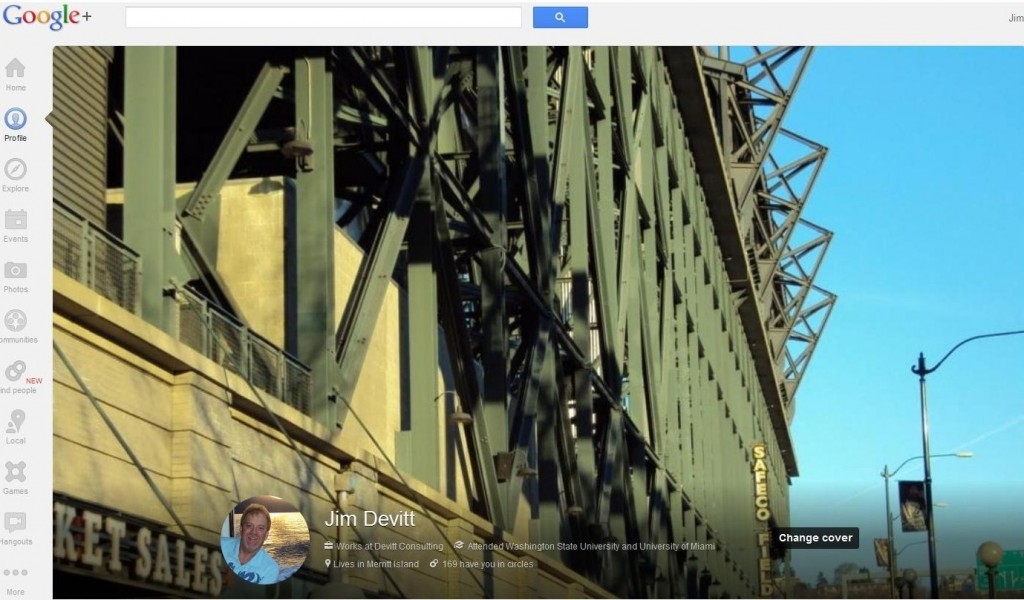 You might have noticed that your cover photo on Google+ is all messed up. They have recently changed the dimensions, allowing you to add bigger pictures. It's really simple and worth the few minutes to fix the profile.
Get to your Google+ page by logging into Google and clicking your name in the upper left-hand corner. From there, click on your current profile picture in the upper right hand corner and select "view profile." Immediately, you'll see the problem: the new over-sized photos are 2120px by 1192px, leaving you much room to play.
I just swapped out my pic for a new one, but I'll go back later and develop a real header that tells my story. As you can see, there's plenty of room for creativity. This is also a great time to review your "About" tab. The new Google Cards make it easier to find and edit all the important info that you want to keep updated. It's important to update the picture and about section because now the hovercard that appears when someone hovers over your avatar will display your profile header and picture.
With Facebook, the changes are related to the design and functionality of the News Feed. Recently, Zuckerberg announced that they are adding multiple News Feeds. The new structure breaks down into the following: All Friends, Photos, Music and Following.
You probably haven't noticed the changes; they claim that they will be rolling the new design out slowly over the coming weeks. If you want to get in early on these new changes, you can add yourself to the waiting list.
The changes will include larger photos (hmm, there's a recurring theme), bigger article summaries, and it will pull elements of your page's timeline (cover photo, thumbnails of fans, etc.) and display them with the article. In addition, the new design will give Facebook the same look and feel on mobile, tablet, and web.
As we get closer to the actual roll-out of the new features, we'll discuss them in detail here. There are significant changes coming that could have an impact on how and who sees your posts.
For now, get your Google cleaned up and be ready for some major changes to the look and feel of Facebook.