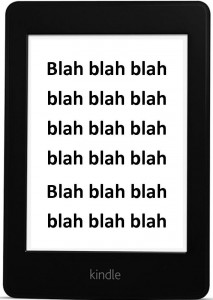 I thought it was a simple question, just like my answer. Kat Brooks mentioned that while sampling books using the "look inside" feature at Amazon she'd been seeing a lot of books front loaded with reviewer quotes among the front matter before the start of the actual book. Her question was whether the reviewer quotes were going to influence our buying decisions.
I rapidly tossed off my answer, that the reviewer quotes ought to be at the bottom of the book blurb or in the editorial reviews section of the book listing, not in the book, and returned to what I was doing. (Our gruel was especially good that day and I was hungry.) The other minions started chiming in with their thoughts and I listened while looking for a chance to steal some extra gruel from those deep in discussion. (Sorry Rich Meyer, you were eating too slow.)
My thought was that by the time I've reached the point of clicking to "look inside" or sending a sample to my Kindle, that I've potentially already gone through several other steps. I've read the book description. I've scanned some of the reviews, both positive and negative. Before pulling up the book listing I may have read a review on a blog, had a friend comment, or seen something else to make me aware of the book. Any one of these things could have pushed me off the fence in either direction, deciding it wasn't a book for me or 1-clicking. When I decide to sample, anything that isn't a part of the main book is junk I have to page through that is going to decrease the amount of real content I have to help make my decision. A table of contents in some kinds of non-fiction books might help. Anything else is going to decrease the value of the sample. If your goal is to maximize your chances of a sale to potential buyers who have reached this point, pushing all the traditional front matter to the back seems like the best move.
If only things were so simple. A few days after the discussion J.A. (Joe) Konrath raised the same issue on his blog. However, his recommendations, while aimed at maximizing the sample size, considered another situation. That is maximizing your chance of getting picked to read from the often large to-be-read stack many readers have. His suggestion is to have cover art, your book description, the title page, the table of contents, and dedication (if any) upfront. Other than the table of contents, which serves little purpose in a book of fiction that I can see, and the dedication, which is going to take very little space anyway, I think his ideas make sense. The cover, description, and title page are going to refresh the reader's memory of what the book was about and why it appealed to them enough to buy. Konrath also formats his books so that a reader opening one on their Kindle is automatically positioned at the start of the content (something I'd recommend all authors do). A potential buyer sampling or using the look inside function isn't forced to page through the front matter while a reader looking through their to-be-read stack can page back through the minimal front matter he includes to refresh their memory. I checked the formatting on Bloody Mary (one of the books in Konrath's excellent Jack Daniels Mysteries) and found that he sacrificed 11% of the sample to front matter.
A few days later we ran a poll at Indies Unlimited to see what you thought. https://indiesunlimited.com/2013/02/24/iu-survey-do-reviews-belong-in-the-book-preview/ As I'm writing this roughly 40% of those expressing an opinion thinks reviews at the beginning of the book are okay. But when you consider what you want to accomplish when a reader is sampling or looking inside your book, I'd suggest those people should reconsider. Toss the reviews out and minimize the front matter.