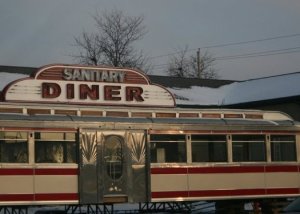 They had given him what they called his last meal, but it wasn't really. It was just food. Meals are for free men.
As they strap him down onto the table, Danny remembers his last meal. He had it in a little roadside diner right before all the trouble started—right before the end began.
That was a long time ago now. Twelve years of trials and appeals. Too long. He was ready for it to be over now.  It will be over in a minute or two. They are prepping the injection site now and Danny is thinking about that hamburger. Someone says something to him, they ask about regrets. He thinks about that for a moment. He feels the sting of the needle in his arm.
In 250 words or less, tell me a story incorporating the elements in the picture. The 250 word limit will be strictly enforced.
Please keep language and subject matter to a PG-13 level.
Use the comment section below to submit your entry. Entries will be accepted until 5:00 PM Pacific Time on Tuesday, September 4th 2012.
On Wednesday morning, we will open voting to the public with an online poll for the best writing entry accompanying the photo. Voting will be open until 5:00 PM Thursday.
On Friday morning, the winner will be recognized as we post the winning entry along with the picture as a feature. Best of luck to you all in your writing!
Entries only in the comment section. Other comments will be deleted.