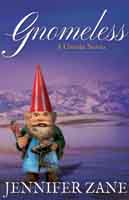 Author Jennifer Zane is pleased to announce the release of her new contemporary romance novel, Gnomeless.
Veronica is a plumber about to take on the family business. One big, handsome problem stands in her way.
Jack is the boy she mooned over in high school. He broke her heart, skipped town and never came back. Until now. Jack finds he's homeless and forced to be roommates with the one woman he could never resist.
Jack discovers his lust hasn't cooled for Veronica, but neither has she forgiven him. A sex-toy party, a meddling boss, an escape artist snake, a stalker in a fluffy pink coat, a house fire, and bitter cold all force them to work through their baggage and unrequited lust while catching the stalker.
Gnomeless was released in June 2012. It is available for Kindle through Amazon.com, and Amazon UK.