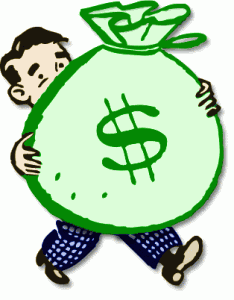 Don't know about the latest indie kerfuffle? That's because you've probably been spending your free time writing. Mazel tov. In case you haven't looked up in a while, here's what you may have missed:
A few weeks ago, in a New York Times article, a gentleman named Todd Rutherford and his now-defunct company were "outed" for selling thousands of fake, five-star reviews to authors hoping to get an edge on their e-book sales.
As if that wasn't bad enough, one of Rutherford's customers was a rather well-known indie scribe who published a rather well-referred-to book about how he became a well-known indie scribe, mainly by purchasing hundreds of fake reviews. Now, Indieland has exploded with blogination: pro, con, and indifferent. Aspersions are raining down on this well-known scribe, who shares a name (if that indeed is his real name) with a dead philosopher and says of his meteoric rise to million-dollar sales, "Reviews are the smallest piece of being successful. But it's a lot easier to buy them than cultivating an audience."
Excuse me. That noise you just heard was the sound of my head exploding.
Why, why, why, when we're trying so hard to gain legitimacy in a market (thankfully) tipping in ever-greater favor toward indie publishing, would we want to give ourselves another black eye by taking the sleazy way out?
What? You'd buy a fake review in a heartbeat to get to the top, or at least the middle, of that heap? You, uh, already have some on your Amazon page? Allow me to disabuse you of your rationalizations myths:
• Indies need to "an edge" to get noticed. Here's your edge: put out a good product. Then another, and another. Learn clever, ethical ways to get your name and your work out. You were creative enough to write a book; you're probably creative enough to promote it. I don't want to hear you crying about how "indies can't get reviewed." Sure, another kerfuffle a while back resulted in a handful of book bloggers closing their doors to indies. A. Handful. Plenty will still welcome you, if you earn their trust and show yourself to be a professional. Because you ARE, right?
• Giving a free book to a reviewer is the same as paying for a review. Oh, hardly. It guarantees nothing. Book reviewers and bloggers may give you (gasp) less than five stars. They may get bogged down in long TBR lists. Or they might just decide your book isn't their cup of tea and be too busy or non-confrontational to tell you. Happens all the time. A book blogger I met in person requested my first novel over a year ago, and I never heard a peep out of her. Whatever. Yes, those proof copies add up, but it's the cost of doing business. Nearly every manufacturer gives away samples. Doesn't mean the public will fall at its feet. It's just an opportunity. The thousands of freebies you give away on your promotion days? No guarantees there. The thousands of people may or may not read your book and may or may not give you whatever reviews they feel compelled to write. Even if they hate it. Even if they've only read the first paragraph.
• Everyone else is doing it, so why not? This dude claims that "dozens and dozens of authors [indie and trad] have paid for fake reviews." Why shouldn't you? Because it hurts all of us. And not all of us are doing it. Look, what's done is done, and John Locke's karma is his own. But I don't want it to be mine.
• Everyone thinks we all do it anyway, so why not? You'll know. Is that really how you want to do business? The way you want to build your career? How you want indies to be represented? I hope not.
• No one will ever know. Come now. You're smarter than that. According to inside sources whose identities we're protecting for their own safety, it doesn't take much to do a little research, look for certain patterns in reviews, to find some that don't "smell right." If someone aims to take you down, you could be outed.
There. I've just kept you from blowing five hundred bucks on some sleaze artist out to prey on your insecurities and eager dreams. Toss that savings into the kitty toward editing and cover art for your next book. You're welcome.