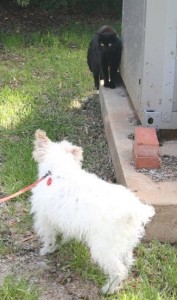 Being a guardian isn't easy. My people are remarkably unaware. I honestly don't know how they ever got along without me. I rarely see them sniff anything—not even each other.
And here is another situation. There comes a stranger and what do my people do? They make goo-goo sounds at it. Really? That is the first impression you want to make?
Cats are notoriously psychotic. There is no telling what this character is up to. I guess I'll have to check this out myself.
In 250 words or less, tell me a story incorporating the elements in the picture. The 250 word limit will be strictly enforced.
Please keep language and subject matter to a PG-13 level.
Use the comment section below to submit your entry. Entries will be accepted until 5:00 PM Pacific Time on Tuesday, September 11th 2012.
On Wednesday morning, we will open voting to the public with an online poll for the best writing entry accompanying the photo. Voting will be open until 5:00 PM Thursday.
On Friday morning, the winner will be recognized as we post the winning entry along with the picture as a feature. Best of luck to you all in your writing!
Entries only in the comment section. Other comments will be deleted.