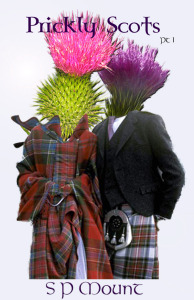 Today, we feature a sneak peek of S.P. Mount's comic epic fantasy, Prickly Scots Part I .
A feel good story with all the elements of an epic adventure, Prickly Scots is a richly described escapade with humour beating at the heart of it. Paths cross on individual life journeys as a wonderfully nuanced, largely irascible cast, human and otherwise, become embroiled in a fantastical situation; finding themselves time-travelling between three time periods in Scotland and interacting with supposedly mythical creatures such as the Loch Ness Monster and Bigfoot as a biblical artefact is sought out. The plot pulls the story along in Part II in a butterfly effect, as even the cast themselves change beyond recognition.
Prickly Scots Part I is available through Amazon.com, Amazon UK, Kobo, Smashwords and other online stores.
Here is an excerpt from Prickly Scots Part I :
Prologue excerpt: Twenty-two New Year's Eve: Twelve years ago
If the trees hadn't been rooted for centuries, the outhouse sunk into its ancient foundations, the children's swings firmly anchored with concrete blocks into the lawn now covered with what appeared to be dense blue snow, they might just have disappeared into the kaleidoscopic vortex that'd already flown off three whirly bird clotheslines like a deployment of helicopters.
Everything else had been fair game, sucked up; broken branches swishing, searching for someone's back to lash, the odd child's toy abandoned, molested, no longer innocent. Everything not battened down, frantically trying to flee the hundreds of flashes of lightning lashing the grounds of Burnside Children's Home.
Yes, the large corner window of her bedroom, normally overlooking serene vistas of the moors on which her heritage mansion stood, had transformed in mere seconds from idyllic winter wonderland to a frenzied hell, the motherboard of all electrical malfunctions, a computer game from which its ghoulish players had emerged.
After eighty years of suppressing emotion, Sadie Wallace, for the second time in her miserable life, felt fearful.
"The apocalypse? And here's me withoot ma wig on."
**
When the so-called 'Blue Phenomenon' lit the country up like a sleazy nightclub at chucking out time, bagpipes all over Scotland deflated like many sheep's stomachs before them that night, gutted for the stuffing of liver, lungs and hearts. Haggis, the way it was meant to be. And indeed, the sheep might've been the lucky ones; not having to contend with proverbial knitting needles being poked in their ears all night.
"Thank Christ fer that!"
As well, swirling dervish dances suddenly halted as kilts blatantly displaying what isn't worn beneath them came to rest in perfect pleats around the shaggy legs of both men and women – and not least of which, on the makeshift stage at the Sly-n-Sleekit hotel located on the outskirts of Murkentilloch, a tiny little village where the luminosity was brighter than anywhere else in the land.
"Oh my… did ye see up that wan in the middle, Effie?" Said Ma Clancy sitting courtesy of her reporter daughter, Shona, hosting the New Year's Eve festivities from a table at the base of the stage. But Effie's glasses, long since steamed up, had made her miss the nether regions of the particularly hairy beast front centre of the dance ensemble. "Size o' a baby's arm!" She said, tucking her chin into her pearls.
And it wasn't long before newsflashes from every TV station cut into the joviality of the evening's celebrations to reassure the public that there was nothing at all to be concerned about, and with more than a little candour, instructing them to not to even think about looting; something, apparently, only the English did.
'A-w!'
'God… are we ever gonny get a new telly?'
Yes, insignificant and of bygone age, nothing ever happened in Murkentilloch… well, nothing outside of the odd handbag snatching anyway… but after that Hogmanay night, the less than quaint little hamlet that time, and perhaps the local government, forgot about, was about to get its fifteen minutes of fame. No, not long at all before the world's media came crawling all over it like flies round a piece of…
---