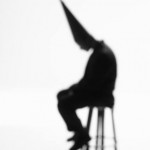 I have it. I hear that you have it. In fact, the buzz is that it's pretty all writers have it. It's the beast, that saps your inspiration, pulls the rug out from under you, makes you want to go hide somewhere in a dark hole, tells you no one would ever want to read anything you write. You know the one I mean – self-doubt. There, it's out.
Have a good look. Ugly isn't it. Does it look familiar? Does it make you cringe and want to turn your face away?
I've been suffering from this rather a lot of late. Those insistent messages in my head that babble louder and louder when I read a book by another writer whose style I admire and whose work I enjoy. And the more I read louder the cacophony becomes. "You need better descriptions," "His images are so much better than yours." Her humour is so good. Why can't you add some more humour?" "You need more tension. Your plot sucks." "Why can't you write characters like that?" I see a beautiful turn of phrase, a masterful sentence and I ask myself, "Why can't you write like that?"
Perhaps you are one of the fortunate few who have no need or compulsion to compare yourself to another. I envy you.
For the rest of us the messages in your head may be a little different but you get the gist. Unless, of course, you are convinced you are writing the next great, most acclaimed, most universally loved book in the history of the world. No? I thought so.
What happens when these negative messages intrude into your soft grey matter, that vulnerable place that is impossible to barricade away from outside influences? How do you get past it so that it doesn't paralyze you, so that you can continue to write? Where does your strength and inspiration come from?
For me, things seem to go in cycles. Fall is always a down time for me. I watch the scenery lose its colour and the days get shorter. It feels like world is dying around me. It depresses me. Perhaps I am one of those SAD people, since this time of year seems to trigger me. Perhaps it is only that I resent the need for extra clothing, the mess of wet snow and ice to look forward to, the difficulty getting around after the snow narrows the streets and makes driving so much tougher. I don't have a definitive answer. It's not important, really. All this only serves to feed into the doubts I already have about my abilities as a writer.
So what helps?
For me there a number of things that pull me out of the doldrums, some I do myself and some that come from others.
One of the most useful tricks I use is self-talk. "Just do it," is the best one. "If you start, it will come." "Sit down and you will find your groove." "You have fans that want your new book." "You have your own voice, not better or worse, but it's unique and good enough." This last one is tough, sometimes, especially the 'good enough' part.
But, because of a childhood devoid of the kind of messages that build a sense of core identity, I rely more on outside validation. Not healthy or conducive to remaining centred perhaps, but that is just who I am. I doubt that will ever change, though it is much better than it used to be.
What buoys me up most is a positive review from someone I don't know, or another writer whose work I admire, or a fan who lets me know they are holding their breath until my next installment. It need not be a five star. What makes it meaningful for me is when the reviewer shows, by the comments they make, that they have truly read and understood my work, and say something specific about some aspect they liked. For me it is usually that I create characters they can relate to that draw them in.
Comments on posts or blogs help as well. It gives me the sense that I belong to a community, that others are struggling with the same issues, that they have something to add to the topic at hand, or simply let me know they are there.
I must say, with gratitude and humility, that the writers' community, this one and others, have kept me going, have helped me to believe in myself. Without that support I think I might have given up.
But enough about me. What works for you? How do you keep going? What do you need to do or receive in order to keep the monster of self-doubt at a manageable distance? Ask. We will do our best to support you, too.