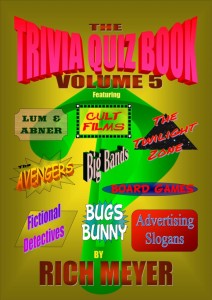 Author Rich Meyer is pleased to announce his new release, the Trivia Quiz Book Volume 5.
Once again, here are 500 easily-navigated questions and answers in the latest volume of the Trivia Quiz Book e-book series by "award-winning #1 best-selling author" Rich Meyer. These are all family-friendly questions suitable for all ages and most everyone find the smile of a good memory on their lips while trying to remember an answer. The subjects for this book are Cult Films, Board Games, the radio show Lum and Abner, Bugs Bunny, the television show The Twilight Zone, Advertising Slogans, the comic book super-team the Avengers, Fictional Detectives, and Big Bands.
The Trivia Quiz Book Volume 5 was self-published by Rich Meyer in July 2012. It is available from Amazon and Amazon UK. Learn more about author Rich Meyer at his Amazon author page.