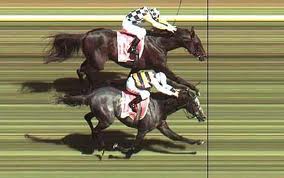 Only once before has the flash fiction challenge voting ended in a tie. It happened again yesterday just as we closed the poll. Congratulations to our winners E.J. Fechenda and S P Mount, who each received 34% of the vote for their respective entries in this week's Flash Fiction Challenge.
Both winning entries appear below and have won a place in our collection of winners which will be published as an e-book at year end. Thanks to everyone who participated – excellent entries!
---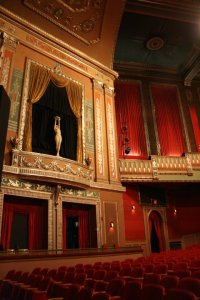 Playhouse Poltergeist
by SP Mount
She'd seen him many times. In fact, on each and every occasion her parents had taken her to the ancient teatro. Yes, the mysterious figure, the real star attraction; filling the house every night regardless of what tragedy unfurled the stage; the audiences' eye wandering continuously towards the haunted box. Most thought it a gimmick, a ghost story designed to enthral, but she knew it wasn't. Ye-s, now more than ever, she knew.
What seemingly good fortune that'd kept her parents coming back to this ancient city to perform the Roman amphitheatre every summer; prestigious roles in operas such as Madama Butterfly, Aida, and Don Giovanni, and for where she'd put on weight for her own 'fat lady' role one day. Yes, forces beyond nature, bringing her back, year after year. Undying love. It had to be. Ye-s, no more would humanly impediment keep eternal lovers apart.
Her own debut performance in Teatro Filarmonico, a fortnight hence of her fourteenth birthday on 1st August, would also be her last. An operetta; Roméo et Juliette, that'd end in real tragedy – at least from the audience's perspective.
But he didn't come; Juliet, together with the audience, glancing expectantly up at the box all night, disappointed it'd remained empty.
'He'll carry me off, act five, the dying scene.' She thought. 'Will thrill the audience; take me into his arms, spirit me away. As it should be.'
But still, Romeo failed to appear, and she just knew it was because she was fat now.
---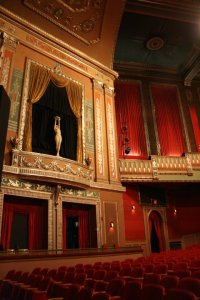 Playhouse Poltergeist
by E.J. Fechenda

Sara takes a tentative step onto the stage an hour before curtain call. Aside from an occasional thump or bark of an order from the crew backstage, the theater is quiet.
She has waited for this moment ever since her first play in third grade. Now she's the lead in a sold out show at the trendiest theater in the city. When asked by a reporter if she was nervous, Sara lied and said no. Even though the rows of red velvet seats are empty, her palms are sweaty and her stomach quivers.
A movement in the box that is sealed shut, the one cast and crew whisper warnings about, catches her eye. She gasps in surprise to find it occupied by a man. He's very handsome with dark hair, strong features and pale almost luminescent skin. His dusty black suit jacket reminds Sara of Victorian era pictures and his tie is the same deep red as the seats.
"Hello?" Sara calls, holding a hand over her eyes to block the glaring light. The man, smiling, beckons her to move closer. Mesmerized, she takes a few steps forward.
"Come here." His lips don't move, but she hears his voice in her head, a seductive rasp. Sara takes another step, plummeting off the stage.
Her scream is silenced upon impact.
When a stage hands discovers Sara, her head is twisted at an unnatural angle and her eyes stare, unseeing, at the empty balcony of the sealed box.