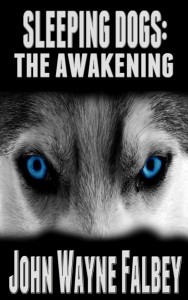 Author John Wayne Falbey is pleased to announce his new techno-political thriller, Sleeping Dogs: The Awakening.
Nature's beta models of the next evolutionary leap forward in human beings were molded into the blackest of black ops units. It was dismantled and the men ordered terminated with extreme prejudice. Faking their own deaths, they went to ground for twenty years. Now they're being reunited to stop a foreign power from destroying the US from within. Someone let the Dogs out. This book works the same side of the street as Brad Thor and other modern thriller writers. Closely tracking the issues behind today's headlines, the plotline weaves cutting edge developments in technology, weaponry, and genetics research with the political intrigue occurring inside the Beltway today.
"Falbey offers a bold, gritty spy thriller…conjures memories of Lawrence Sanders and his hero Edward X. Delaney…." -Kirkus Reviews
Sleeping Dogs: The Awakening was self-published by John Wayne Falbey in June 2012. It is available from Amazon.com, Amazon UK, Kobo, Smashwords and Barnes & Noble.