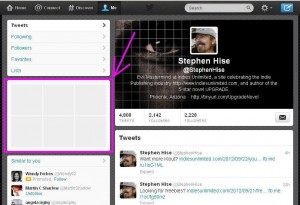 This past Saturday, our Jim Devitt showed us how to implement the new Twitter header. If you missed that, you can read it here. Two things came from this header change: a spiffy new look and the burning question "what the heck are those empty boxes on the left-hand side of my screen?" Well, worry not. I'm going to tell you what they are, and how to use them!
I don't know exactly when Twitter gave us the functionality of being able to upload/tweet photographs directly. Those empty boxes, however, are the most recent pictures in your photo album. If you've never directly tweeted a photo, your boxes will be blank. If you tweet from HootSuite, Facebook or another program – those boxes will remain empty. Here's a quick and easy way to fill those boxes – with your book covers.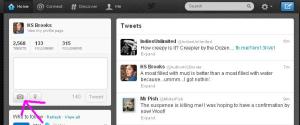 Log in to your Twitter account. On your home page, in the top left section, click on the box where it says "compose a tweet." Once you do that, the box will expand, and a couple of icons will appear beneath it. Click on the little camera.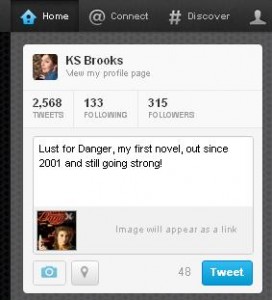 That will open a window which allows you to select which photo you want to attach to your tweet. I decided to populate my photo album with book covers, so I went to my press folder which contains all my covers, and chose one of those. Then write whatever you want as your tweet. If your photo has uploaded properly, your tweet should look like this with a tiny version of your photo beneath your text. Make sure to check that the little picture is there  before you click "Tweet."
Yes, I know, your tweet disappeared into the twitosphere. You want to see if your picture is up in the empty box? Up in the top left-hand corner of your screen, there's a tiny picture of you. Your name is to the right of that, and beneath that, it says "View my profile page" (you can see this in the screen capture above). Click on your name.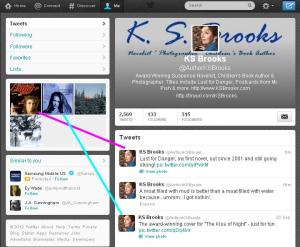 This will bring you to your profile page where you can see all your tweets, photos, etc. See how the tweets coincide with the photos? Here's another cool thing – if you click on one of the photos, it will take you to your photo album, where you can look at all the pictures you've tweeted – and so can everyone else. People love photos, so it's always good to tweet those.
Now go put up your photos, because tomorrow we're having a Twitter like-fest!