The best three words to get a good discussion going among writers are: "Show, don't tell". When I first heard this instruction, I actually did explode: What do you mean, 'show', don't 'tell'? I want to TELL a story, for Pete's sake!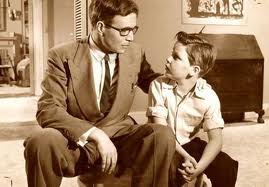 I want to be a storyTELLER – it's in the job description, you see? And now you tell me that I've got to 'show' and not 'tell' my story? How should I do that, exactly? Put a few arrows around the page, pointing to the words? Draw little pictures of stickmen? Get my printer to emboss cupcake shapes into the pages?
However, that was sometime ago now, and I ascribed my misunderstanding to the fact that I'm left-handed and, all my life, little sayings that everyone understands have left me baffled, unless and until they are explained differently. In this case, it happened with an example I want to share with you. Now, because you read Indies Unlimited, you are clearly a cultured person and doubtless go to the theatre (work with me here, I've heard that a little flattery goes a long way). Imagine you're in a theatre now, watching two characters on the stage. They say this:
"I love you, John."
"I love you, too, Jane."
At this point, what does not happen is this: the playwright does not leap onto the stage shouting at you, "There, did you see that – did you?! How she said she loves him but actually she hates him because she's found out he's having an affair! And did you see him? He said he loves her when really he hates her because she's cleverer than him and earns more money!"
As needs must, this example is simplistic: the playwright can give some limited stage directions, and the actors will interpret the roles. Nevertheless, the playwright must move the story forward through the dialogue:
"I love you, John."
"I love you, too, Jane."
"I'm so happy to hear that, John. I was so worried when I saw you with that harridan Betsy at Charlie's bar yesterday lunchtime, but I know you were only comforting her."
"Yes, of course, dearest love – whatever else could you think? And I'm so happy that you have another million-pound bonus and will be able to afford that thoroughbred you've always wanted."
That's better (although not much, I grant you). Now, let's see how a fiction writer, who is determined to TELL their story, might set this exchange up on the page:
"I love you, John." John heard the words but knew Jane was lying. The only thing Jane loved was her job and the huge bonuses she made. He knew she'd buy a horse with the next one, and hated her for it.
Nevertheless, John felt compelled to respond, "I love you, too, Jane," he mumbled, although he knew he sounded desperate and he could feel her eyes boring into him – was it possible that Jane had seen him the previous day with Betsy?
These, then, are the two extremes of the balance that each writer must strike, but in a nutshell "show, don't tell" means, "let your readers work stuff out for themselves". The trap that beginning writers tend to fall into is that they feel they must make everything explicit, and often repeat in beats (which is the name for lines of exposition between lines of dialogue) what their characters have just said in dialogue. The way to spot this in your own writing is to look for what I call the "No, really?" factor – and I mean this sarcastically, as you might expect. Look through a passage of your dialogue and see if you've repeated something that's just been said. Another short example:
"No, Bert, I won't do it. No way."
"Come on, John, you've got to. I need you to do it."
"I said 'no' and I meant it. Never again."
Bert could see that John was going to take a lot of persuading this time.
Now, that last line has a sky-high "No, really?" factor, and absolutely should not be there. Even if we expand it, e.g. '…persuading this time to rob the bank', it's still poor writing because that information should come out in the dialogue. This scene might continue with the characters giving out that information, but the "No, really?" line is still damaging the flow of the story. What's happening here is that the writer is thinking out loud (well, on the page), as she/he juggles the characters' lines and how the conversation drives the story forward. The "No, really?" line is the writer giving him/herself a little signpost as the scene develops.
It is possible, of course, to go too far the other way. Recently I read a scene in a mainstream published novel where two detectives left a suspect's house to return to their car, in the pouring rain. There then followed a full page of back-and-forth dialogue – as in a play, without a single beat – before one detective turned the key in the ignition. The dialogue was fine; discussing the suspect, a bit of back-story about one detective; but, without beats, I had no idea how they got from the front door of the suspect's house to inside the car, or how wet they got while they were having their chat – I was left to assume too much.
Balancing dialogue with beats is one of the hardest parts of writing strong, entertaining fiction: too many beats and the reader will get fed up with you constantly interrupting the action, instead of letting the characters get on with it; too few and the reader will get confused and be unable to visualise the scene. If you're just beginning to write, write like a playwright. Look at your dialogue, strip out all the beats and see what's left. How many of the beats can be converted to dialogue? Instead of telling the reader that one character is making coffee, have that character ask the other character if they prefer it strong or weak, with milk or without, and give your reader the pleasure of working out what's going on. Only put back the beats you really, really, need to make things clear, then you can toss the "No, really?" lines in the trash.
Finally, it does get easier; practice does help. In my first novel I sweated buckets over each beat between each line of dialogue. Now I'm well into writing my third, and the worry isn't so strong. I can sense that I have a better feel for the balance, and some of my recent scenes shouldn't need too much editing. This isn't complacency, more like the result of having some modest experience. Do I miss those days when I sweated buckets? No, not really.