Today we have a sneak peek from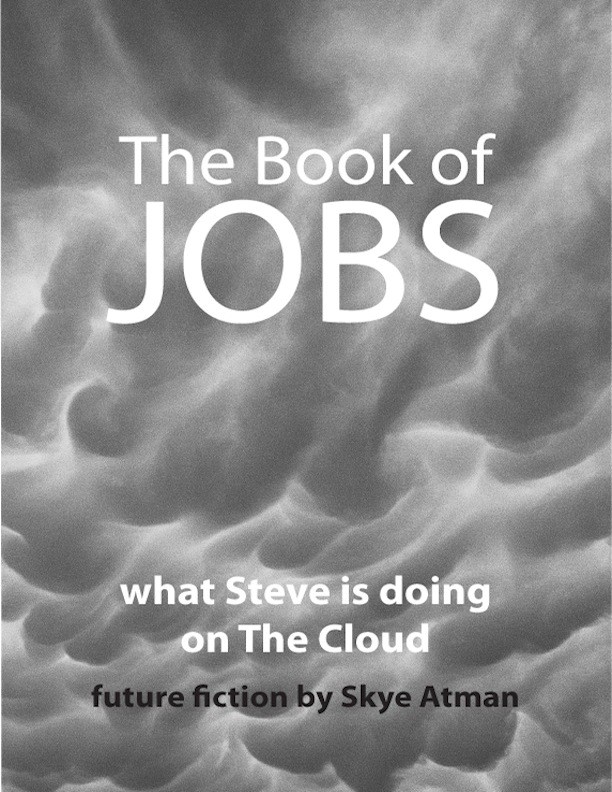 The Book of JOBS: what Steve is doing on The Cloud by Skye Atman.
NOTE to Apple fans: Steve made a successful transition to The Cloud and is doing well! Despite the arduous journey, he's impressed by the design of the place, and thrilled when John Lennon does his orientation—he gets the Magical Mystery Tour.
Steve is a reluctant resident, however, not happy to discover that he is subject to the same rules as all the other Cloud residents and must do his time, despite his secret plan to return to Earth immediately. His mighty, but futile, efforts to circumvent the reincarnation eligibility edict lead to lasting friendships and spiritual growth.
The Book of JOBS: what Steve is doing on The Cloud is available from Amazon, and Barnes and Noble.
Here is an excerpt of The Book of JOBS:
1 Arrival
Steve was ready. This was far and away the most perfect place he had ever seen, or even envisioned: simple, elegant, beautiful. And he was only at the entrance. John Lennon as his personal escort? Could anything top that? He felt so good right now.
About time, because the journey here had not been easy. First of all, there were just too many people taking the same route. From the moment he set foot on the stairway he was jostled and pushed along by strangers. Looking ahead all he could see was a mass of bodies climbing in front of him, and looking behind all he could see were swarms of people just arriving.
He did a quick calculation. Width of the stairs, height of the stairs, total number of stairs he could see. There must have been at least 150,000 people trudging up the steps with him. They were beautiful, though, these steps. Like the perfect steps in the Apple flagship store in New York City. Absolutely clear glass, just the right height to let the children skip. Those with long legs could easily take them two at a time. The stairway curved gently from side to side, creating the illusion that the distance wasn't so far.
But it was far. He struggled for breath at times, had to stop and rest. As the people surged past him, he realized no one was talking. Like him, everyone was alone.
How long was he on those stairs before finally reaching the entrance? He had tried to count the steps but gave up and just continued upwards. He intuitively knew, as apparently did all the others, that there was no going back, no way down, no descending staircase. Again he marveled at the mass of humanity surrounding him as they all quietly, purposefully, intently, marched upwards. He was just one more body.
---