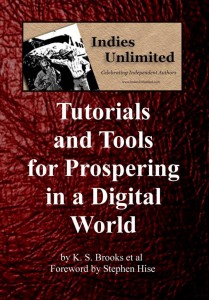 Why in the world could I possibly need to know how to resize a picture? you ask. Well, Skippy, it goes like this. A reporter or blogger or some other nice person who wants to feature your book asks you for a jpg image of your book cover – or a head shot – no larger than 500kb. But the only image you have of yourself looking all sexy and authory is 4 megabytes. So you send it anyway. BAD AUTHOR!!!! That's a really good way to annoy someone who's trying to help you. But…how do I make the image smaller? you say. Well, I'll show you.  Aren't you glad you asked?
See the cover above? The size of the original file is 606 kb. That's over half a megabyte and still doesn't meet the criteria of the 500kb requested by whomever. Making it smaller is very fast and easy. Go to the folder where your picture is stored. If you mouse over it, that should tell you how large the file is. (I knew you were going to ask that next. Ha!) See the photo below.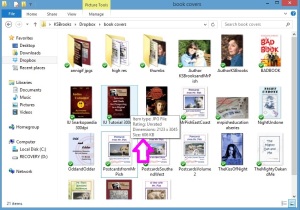 Next, right click on the file. A little window will appear with a bunch of choices. Click on open with. That will open another window. I selected Microsoft Office 2010 which is also the same as Microsoft Office Picture Manager on systems with older versions of MS Office. As far as I know, this is a free program. (Sorry, Apple people. I don't know how to help you with this.)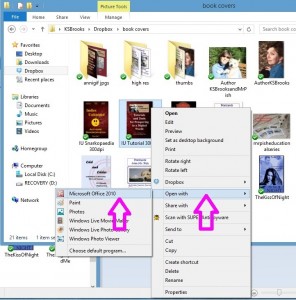 This will open the program and your book cover or sexy author portrait will be front and center in the frame. From the top menu, select Edit Pictures. A new menu will open to the right. Click on Compress Pictures.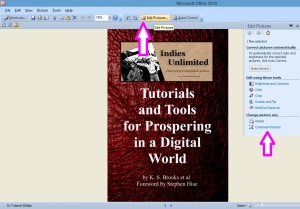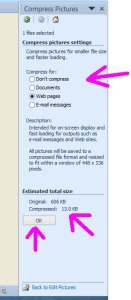 Now, depending on what you want to use the picture for, Picture Manager gives you a number of choices. Just going into a Word Document or other publication? You can select Documents. Down at the bottom of the screen, the program will tell you what size you can expect the new compressed image to be. But since we're going to be using this for the web, let's select Web pages. The new file will be nice and small at 13 kilobytes. Excellent! You can check what the different sizes will be and when you've got the compressed size you want, click OK. Now, here's something very important. Do NOT save this file. Doing so will overwrite the humungous file you started with – and you won't be able to get that back. Make sure to SAVE AS and rename the file – maybe with the same name but "web" at the end. Now you can send the new, smaller file to the nice person who is helping you.
All this talk of file sizes annoys you, does it? No one told you there would be math, did they? Well, let's break it down really quickly so you have a better understanding.
A kilobyte (kb) = 8 bits (the smallest amount of data measurement)
A megabyte (mb) = 1024 kbs
A gigabyte (gb) = 1024 mbs
Many email accounts can't accept attachments or messages larger than a couple of megabytes. If you want to make sure your message gets to the intended recipient (especially when it comes to press releases), send a small image and offer a high-resolution version upon request. Because yes, Mabel, size does matter.