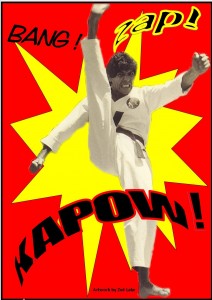 If you are not knowledgeable in an area you are writing about you owe it to your readers, and yourself, to do the research: consult the experts or risk appearing like an amateur.
When I am reading a book or watching a movie and it reaches a fight scene, or an act of violence: a point at which physical conflict is involved, I tend to zero in on any inaccuracies. From that statement you might conclude that a particular kind of subject matter attracts me; however I would argue that some kind of combative, violent or physical conflict will be found in ninety percent of all the reading and or cinematic fare on offer.
There have been times, whilst totally engrossed in a book or a movie, my disbelief totally suspended, when one unresearched, implausible paragraph or fight scene has ruined the whole experience; and all for the lack of some decent research.
The fact that some of these stories have been written by well established authors leaves me in no doubt that others have had this same disappointing encounter: finding the quality of their reading experience reduced, somewhat, if not entirely ruined. My wife, who has no experience of fights or violence on any level, can tell when she is reading or seeing an action/fight scene that just isn't plausible. It's actually surprising how many people can tell that it's not quite right; don't underestimate your sagacious readers.
Basic rule of thumb: don't have your characters doing something unless you know it to be possible, regardless of how many authors have used it previously; for example: 'Striking upwards with the heel of his hand, driving his attacker's nose bone into his brain, he died instantly!' For your information, it wouldn't matter if he hit him with a sledge hammer! The sledge hammer might just pulp his brain, killing him, but certainly the nose bone business wouldn't work!
The rules change slightly, of course, in the case of a supernatural, fantasy or magical tale; the author then makes his or her own rules, and if you take on those rules anything is plausible. Mind you, those authors should then operate within their own rules; without recognisable rules of some description it's almost impossible to effectively build suspense; however that's a subject that deserves to be addressed separately, at some length, in a future post.
I understand that relatively few writers will have had the experience of dealing with real violence in their lives, and that few writers are martial arts masters. I would also concede that the chances of there being a writer/martial arts master who has had their training and theoretical knowledge tried and tested in real life situations is even slimmer. However – and the same is true for any kind of specialised knowledge – if you are going to write about something, as previously stated, you owe it to your readers and yourself to get it right, and if you are not an expert in that area then you had better do the research.
Having been a student, teacher and master in a variety of martial disciplines, during an eventful and at time dangerous lifetime, I am extremely fortunate, as a writer, to be able to utilise that priceless reservoir of knowledge. When writing a fight scenario or violent action scene I know if it is realistic, probable and plausible; however more importantly, both physically and emotionally, I know what it actually feels like.
So, rather than advocate the old adage, 'Write what you know,' I would advise that you, 'Know what you write,' and in the case of a physical conflict scene, 'Get the fight right!'
For more on writing fight scenes, check out these posts (HERE and HERE) by martial artist Mark Jacobs.