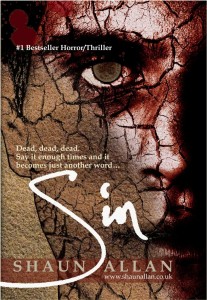 Sin
by Shaun Allan
Genre: Urban Fantasy/Paranormal Thriller
105,000 words
Dead, dead, dead. Say it enough times and it becomes just another word.
What would you do? Could you kill a killer? Does the death of one appease the deaths of a hundred? What about that hundred against a thousand?
What if you had no choice?
Meet Sin. No, not that sort of sin, but Sin, crazy as a loon (you ask Sister Moon), and proud of it. Sin locks himself away in an asylum and, every so often, gets violent. That's only so they'll give him those nice drugs, though. The ones that help him forget.
It's a pity they don't work.
Sin, you see, has a serious problem. Well, it's not so much his problem, as ours – yours, mine and everyone else's. People die around Sin. He doesn't like it and there's nothing he can do about it. But someone else knows, and Sin has to stop them… and himself…
Flip and catch…
The ebook plus autographed print copies of Sin are available from http://www.shaunallan.co.uk This title is also available from Amazon US and Amazon UK.
Shaun, how did you come up with the title for your book? Does it have any special meaning?
Strangely, it has nothing to do with 'Sin.' I've always been interested in science, including black holes. The center of a black hole, where laws of space/time collapse is called a Point of Singularity. Thus Singularity's Point was born, it being shortened to Sin – and the rest, I hope, will be history!
Who was your favorite character and why?
I'd like to say Sin is, but it's hard to know whether to like him even though we're so much a part of each other. I'd have to say Jeremy. He's a friend to Sin and others and pays the price for it. It's not fair what happens to him.
Does your book have any underlying theme, message, or moral?
It asks the question, could you kill a killer. If you knew one person was going to kill ten, or ten a hundred, and you killed them, would you be a hero or as bad as them? It questions what, really, is 'sin.'
What would/could a reader or reviewer say about your writing that shows they "get" you as an author? 
I've seen one blog post that talks about Sin and Finnegan's Wake (James Joyce) comparing the writing styles and the 'stream of consciousness.' THAT person definitely got me.
Give us an excerpted quote from your favorite review of this book:
"Masterful characterization, mental health and insanity played to the bone, and an amazing ensemble cast, this book is good. More than good, it's haunting."
Where can people learn more about your writing?
http://www.shaunallan.co.uk