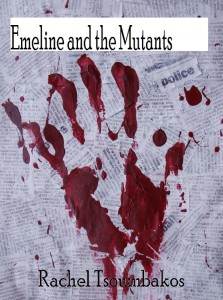 Emeline and the Mutants
by Rachel Tsoumbakos
Genre: Horror
83,500 words
Newsflash: A cure for AIDS discovered!
The Haum vaccine, as it came to be known, is so important to humanity that is available to the public immediately. Available in a vaccine, it is effective as both a preventative measure as well as a cure for those already infected.
No one needs know that the proper testing was short-lived, nor that a few 'mutations' are occurring. They are merely secrets for the government to hold onto.
Although, eventually there is no way to hide the fact that the world is now filled with people who are no longer predisposed to getting cancer, heart disease or diabetes; but of becoming werewolves, vampires and trolls.
Follow Emeline and her new-found friend, Gwennie, as they fight to find the truth behind the death of Emeline's brother, Warwick.
EMELINE AND THE MUTANTS is a fast-paced cautionary tale of what happens when science goes wrong.
This title is available from Amazon US, Amazon UK,  and Smashwords.
Rachel, how did you come up with the title for your book? Does it have any special meaning?
Emeline is the name of the main character in the book. During the novel, she encounters all manner of creatures (ie. trolls, vampires and fairies). These creatures were a direct result of an AIDS cure mutation, so I wanted the word 'mutants' or 'mutations' somewhere in the title as well.
Who was your favorite character and why?
My favourite character is Gwennie, who is short of stature but larger than life in character. She was so much fun to write and I loved the fact that she was really the only one who had a normal relationship throughout the whole novel. I attempted to portray (through her) how humans come in all shapes and sizes, and even though the world around them was changing rapidly, it was still important to hold onto the human aspect in the midst of all the chaos.
Does your book have any underlying theme, message, or moral?
I guess the overall theme would have to be: 'Be careful what you wish for.' While the idea of curing all illnesses appears a noble cause on the surface, sometimes there are hidden consequences underneath that you cannot first see. There is also a huge dose of conspiracy theory going on as well in this novel, but you can't have zombies in a story without that!
What would/could a reader or reviewer say about your writing that shows they "get" you as an author?
Anyone who laughs at the scene in this book involving Emeline and Gwennie crossing the bridge and getting held up by the troll who owns it, is 'getting' my work.
Give us an excerpted quote from your favorite review of this book:
I love books that defy genres, ones where it's difficult afterwards to pigeon hole where it would go in a bookshop. Emeline and the Mutants is like that.
Where can people learn more about your writing?    http://racheltsoumbakos.blogspot.com.au