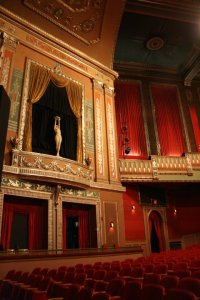 It is her first performance in this theater. She has heard the stories about him, the one who sits in the sealed box—the box no one is supposed to be able to enter.
Some say his appearance is a good omen; others that it spells certain doom for the production.
She wonders if he will appear tonight and what his presence will portend.
In 250 words or less, tell me a story incorporating the elements in the picture. The 250 word limit will be strictly enforced.
Please keep language and subject matter to a PG-13 level.
Use the comment section below to submit your entry. Entries will be accepted until 5:00 PM Pacific Time on Tuesday, September 18th 2012.
On Wednesday morning, we will open voting to the public with an online poll for the best writing entry accompanying the photo. Voting will be open until 5:00 PM Thursday.
On Friday morning, the winner will be recognized as we post the winning entry along with the picture as a feature. Best of luck to you all in your writing!
Entries only in the comment section. Other comments will be deleted.