Don't you hate that sinking feeling you get when you find out you're wearing Goochi loafers and a Rolodex watch? Your Mona Lisa is signed by Leonard DaVinci. All that money in your wallet has Art Linkletter's picture on it. You have a gold American Espresso Card. Worst of all, you are driving a Limburgergini.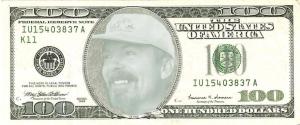 People don't hate fake things. Oh, they'd rather have real things—real teeth, real hair, real tomato ketchup. But as long as it's a conscious and informed choice, people are fine with it. What they hate is being duped into thinking something fake is real. Then they get angry.
Hence, the uproar over the recent discovery of the posting of fake book reviews. Like most controversies suddenly "discovered" by the media, this has actually been going on for a while. In fact, I've touched on this in some previous articles. I won't bother with a link because I'm not trying to set myself up as some sort of fake Nostradamus.
Posting or facilitating the posting of fake reviews is unethical. There is no way around that. You can engage in moral equivalency all you like, but it is simply wrong and people know it is wrong. It is intentional deception.
From what I can tell by examining the facts as reported, there are three types of fake reviews:
Sock-Puppetry
An author sets up multiple accounts to post glowing reviews of his/her own book under other identities to give the impression the book is popular and well-written.
Bought Bulk Reviews
There are outfits that will sell authors bundles of good reviews. Again, the purpose is to mislead the prospective buyer about the popularity of the book.
Tactical Assault Reviews
These are negative reviews of another author's book designed to tank a perceived competitor's ranking or standing, driving the perpetrator's book up in comparison.
All of these strategies are forms of astroturfing, which is nothing more than trying to influence public opinion with faked or manipulated data. This practice is in wide use in marketing and politics. It is seedy. It is unethical. Nevertheless one must assume it provides results or it would not be in such wide use.
Whether they wish to admit it or not, people are influenced by representations of the popularity of a product. This is why you know that four out of five dentists surveyed recommend sugarless gum for their patients who chew gum.
I tend to be very circumspect about data and particularly pronouncements that profess to be based on data. It is too easy to cherry-pick to get the results you want.
If your book about dragons has twelve 5-star ratings and is presented next to another book about dragons with one hundred 5-star ratings, the chances a prospective buyer will select your book will be diminished.
If you discover a considerable portion or all of those hundred 5-star ratings are actually fake, you are going to suffer a bout of self-righteous indignation. You played by the rules and suffered for it. The cheater got ahead and is crying crocodile tears all the way to the bank while you still labor in obscurity.
Have a good pout and then put your big kid pants on because I have a news flash for you: Life is not fair. Expecting life to treat you fair because you are a good person is like expecting a bull not to charge you because you are a vegetarian. There are some bad actors out there, but the real problem is that the system is flawed.
Book reviews have become a commodity. Like all commodities, where there is a demand, there will be someone and some means to meet it. We might be able to agree that purchasing a bundle of good reviews is dead wrong. Perhaps more accurately it is at the darker end of a broad band of an ethically gray area.
Have you ever asked friends or relatives to post a review for you? Do you really think those reviews are completely unbiased? Have you perhaps traded reviews with another author? Can you say without even a modicum of doubt that your review of their book was not tinted even an iota by their review of yours?
There are many shades of gray—fifty, I'm told. Buying reviews or maliciously posting negative reviews of another author is not something I have ever done or ever will do, but I do know this is a rough game. Follow the dictates of your own conscience in these regards and let others do as they will. As my boys used to say, "Don't hate the player, hate the game."