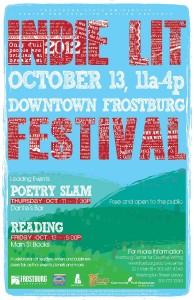 The Sixth Annual Western Maryland Independent Lit Festival will be hosted at various venues around downtown Frostburg, Maryland. Editors, publishers, writers, and educators of the local literary community will be participating. Journals and presses will display books, submission guidelines, and other promotional materials inside the Lyric Theater. Panel discussions and roundtable sessions include topics on writing and getting published, teachers and students, blogging and new media publishing, using social media for promotion, and craft discussions. The Press Festival is an excellent opportunity for members of the local literary community to meet directly with editors and publishers and learn about writing and publishing.
Dates: Saturday, October 13th from 11:00 am to 4:00 pm
Entry Fee: Free Admission
For more information, please visit their website.
*      *      *      *      *
Indies Unlimited is pleased to provide this conference information for the convenience of our readers. We do not, however, endorse this or any contest/competition/conference. Participants should always research a conference prior to attending.