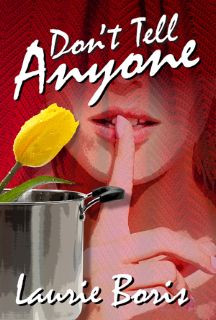 Today we have a sneak peek from the new novel by author Laurie Boris: Don't Tell Anyone.
When pneumonia lands Estelle Trager unconscious in the emergency room, it ruins everything for the stubborn 65-year-old woman. She'd been keeping a secret—a deadly secret—that she'd planned on taking to the grave. But now her son Adam and his wife, Liza, know about her tumors. Adam is outraged, but Estelle, who watched her mother and grandmother suffer from breast cancer in the days when no one dared speak its name, has no intention of putting her family or herself through the horrors of cancer treatment. Estelle decides there is only one solution: ask Liza, the 33-year-old daughter-in-law she once called a godless hippie raised by wolves, to kill her.
A horrified Liza refuses and keeps the request—among other things—a secret from her furious husband. But she tells his younger brother, Charlie, a close friend from college with whom she shares her own confidences, despite Adam's serious case of sibling rivalry. Armed with nutrition textbooks and her neighbor, a savvy nurse, can Liza win over her mother-in-law and convince her to consider other options before the cancer, the secrets, and Estelle's determination to end her life win out?
Don't Tell Anyone is available in print and ebook format from Amazon.com, Amazon UK, and Smashwords.
Here is an excerpt from Don't Tell Anyone…
Estelle had found the first lump by accident on the morning of Adam's wedding. The night before, Charlie had given her a pill and she'd overslept. She'd rushed through her makeup, painting on eyebrows and coloring her cheeks. She'd been zipping herself into her dress, but it didn't sit right in the bosom. As she slipped it this way and that and adjusted her bra, she felt something hard and uneven in her right breast, like the end of a chicken bone. She thought about all those medical shows, the books she'd read, and the women she'd known who'd gone through such things. They compared the size of their tumors to food: a pea, an orange, a grapefruit. This lump was nothing that familiar and nothing that round. This was like a knuckle, a dagger, a hand grenade. She sat on the edge of the bed and smoked three cigarettes in a row. The phone rang twice and each time she just sat on her damask spread and smoked.
The first time the answering machine picked up, the caller didn't leave a message. That was Adam. Adam didn't leave messages.
The second time it was Charlie.
"Hi, Mom. Just seeing when you want me to pick you up."
This is meshugge, she thought. People do this every day. People got married. Other people dressed up and traveled for hours to see the bride and groom recite their vows and step on the wine glass. They ate fancy food and slipped checks into the groom's pockets. They smiled, wished them well, gossiped about the in-laws, and debated the couple's chances in the car on the way home.
Estelle didn't know about that Liza. There was something wrong with the way she was raised by her father, like a boy. Adam needed a woman. But she seemed like a smart girl, a practical girl. Estelle hoped to God Liza was smart enough to figure out how to make the marriage work.
The phone rang again. If she didn't answer, the boys would think something was wrong and rush over. She couldn't tell them, not on Adam's wedding day. Whatever her opinions about Liza, Adam seemed happy. She wouldn't make this the day he found out the time bomb went off.
It was Charlie, asking how she'd slept.
Fine. She'd slept fine. "Your father," she said, "may he rest in peace, he couldn't drop dead on the golf course like everybody else? He couldn't go quietly in his sleep? No, he had to have a massive coronary in the middle of synagogue on Yom Kippur and make the newspapers and scar the entire community for life."
"I'm sure he didn't do it on purpose, Mom. Although if you have to go, it might as well be memorable."
"Adam could have gotten married anywhere. A catering hall. Or that beautiful park on the river. But no, he had to pick Temple Beth Make-the-rest-of-your-mother's-hair-fall-out."
"You need more Valium?"
Estelle lit another cigarette. "Bring the bottle."
---