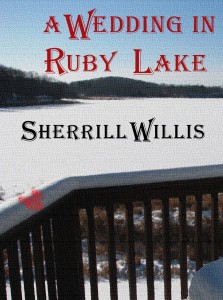 A Wedding In Ruby Lake
by Sherrill Willis
Genre: Romance/Family Saga/Humor
93,283 words
Humor and realism are alive in the long-awaited sequel to Ruby Lake. Author Sherrill Willis takes us deeper into the lives of the inhabitants of the small town nestled in northern Wisconsin, where long-held secrets and hidden motivations are uncovered.
A Wedding in Ruby Lake finds Sydney Myers and Zeke Greyson planning the perfect wedding, only to receive several unexpected, but not unwanted, houseguests. Illana Garet, Sydney's city-savvy best friend, decides to come rather unexpectedly as does Zeke's friend Tyler Shepard. They both arrive just in time to be embroiled into a new threat which proves to be far more dangerous than anyone at first had believed. Join the Ruby Lake gang as they find out, mostly the hard way, that sometimes walls need to be torn down in order for a better foundation to be built.
This title is available from Amazon US and Amazon UK.
Sherrill, how did you come up with the title for your book? Does it have any special meaning?
Since I'm writing a series, I knew I wanted "Ruby Lake" to be in the title and since the whole book pretty much revolves around the wedding for Zeke and Sydney, it was pretty easy. I haven't a clue what the title of the next one will be yet.
Who was your favorite character and why?
I guess it would be Annie since I made her fairly complex. In Ruby Lake, I made her the antagonist – which was very fun to write – and in A Wedding in Ruby Lake, I revealed what makes her tick and turned her into a protagonist, which was a challenge.
Does your book have any underlying theme, message, or moral?
In each of my books I examine some different social issues and try to write them so they are looked at in a more understanding light. Such as, domestic abuse, drug addiction and childhood molest. Issues that are still not talked about openly are the ones I want to put out there.
What would/could a reader or reviewer say about your writing that shows they "get" you as an author?
When they tell me I take them through the whole gamut of emotions. I love hearing what parts make people laugh, or cry, or in some cases shake their fist at the book.
Give us an excerpted quote from your favorite review of this book:
I felt like I was among family every time I turned on my Kindle, and I did not want to finish the book. Sherrill is one of my new favorite authors and I rank her right up there with Nora Roberts, and LaVyrle Spencer, whose writing I dearly miss!
Where can people learn more about your writing?
https://www.facebook.com/AuthorSherrillWillis