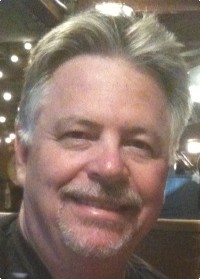 Reggie Ridgway always dreamed of becoming a writer. As an avid reader from an early age, he found a wonderful escape in stories. After graduating high school, he served for 7 years as a medic in the Air Force. He went on to study medicine, but love and family life put his plans for becoming a doctor on the back burner.
He obtained a BA in computer science while holding down a day job as an x-ray tech in Southern California. He taught math and computer programming in a local junior college. After some encouragement from his creative writing professor, he began to pursue his ambitions as an author.
His writing infuses his experience working with computers and in the medical field into his own blend of high tech drama.  He draws inspiration from medical thriller writers Peter Clement and Michael Palmer.
Reggie lives with his wife in a house which looks out on Lake Isabella, in Southern California, where he derives much peace and inspiration.
---
When a new and potentially planet-killing contagion is discovered, Moon Shadow, an isolated resort town located in Alaska's primitive and rugged interior, becomes the focus of a military-style incursion.
Major Pepper, who is in charge of the operation, has the local residents rounded up into a razor-wire inclosed quarantine. Because of the danger of a potential pandemic, they are to be transferred to a more prison-like underground quarantine.
Two of the residents, Trevor, a young physician, and Jodie, an Earth Project environmentalist, are not having any of this obvious violation of human rights. They escape and are hunted down like fugitives with the full arsenal of the US Army at the Major's disposal. While fighting for their lives against nature and the deranged Major Pepper, the two begin to fall in love with each other. They discover they have more to live for than exposing the Major for his treachery and his murder of innocent civilians for the greater good.
Moon Shadow is available from Amazon.